Crown Seating, virtu C120AM Assistant Stool, Black
A traditional chair creates unhealthy pressure points from the hip bones, the tailbone and the legs which increase as you lean forward to work. The virtu chair's support system rolls with you as you move back and forth, providing improved support without any harsh pressure on your body.
The unique flexing properties of the high-strength fiber-reinforced frame, combined with the precise variable tensioning of the mesh support system, allows weight and its corresponding pressure points to be optimally dispersed regardless of the position of the body.
The mesh assistant stool is recommended for users of all sizes. This chair comes standard in BLACK.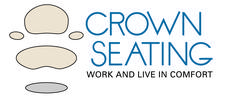 PRODUCT INFO
Features & Specifications
LIKE FLOATING ON WATER
·        The patented ZenWave™ motion technology allows you to float forward and backward without harmful pressure.
ALIGN YOUR SPINE
·        The Active Tilt™ seat plate pivots smoothly forward and backward to promote proper body alignment.
FEEL SUPPORTED
·        The "Free-Float" backrest stays with you as you lean forward, giving you continuous support.
EVERYONE IS DIFFERENT
·        virtù® fits you. Customize your seat and backrest position simply with three lever adjustments.
SORE BACK?
·        The convex shape of the "Free-Float" backrest massages and improves blood flow to your lower back.
BREATHE EASY
·        The cool breathable mesh prevents perspiration buildup and keeps your clothes looking fresh and clean.
Specifications
·        Weight: 60 lbs
·        Stool Base Diameter: 23″
·         Floor Seat Height: 24.5″ – 31″
·        Seat Measurements: Width 18.5″ x  Depth 17″