Crown Seating, Durango C90SS Saddle Operator Stool
People are different. Not a profound observation, but this is what most office seating manufacturers continually overlook. At Crown Seating, they have embraced this idea by designing each of their ergonomically correct office chairs to fit a specific body instead of everybody.
The Durango English style saddle stool is recommended for users of all sizes.
Custom Colors:
Crown Seating has almost every imaginable color choice available! When you place your order, a WDA Sales Rep will contact you to finalize the color of your chair by providing color swatches or assisting with color matching existing equipment. Please note that some fabric choices may require additional charges.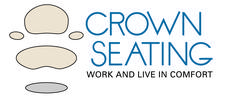 PRODUCT INFO
Features & Specifications
Benefits
·        Distinct anatomically contoured seat design allows for a custom fit.
·        Multi-angle pelvic positioning helps reduce lower back strain.
·        Improved balance point allows you to bend forward and reach further with less strain.
·        Small seat size allows the closest positioning to the patient.
·        Carpet or hard floor casters glide easily in any environment.
·        Five-leg powder coated aluminum base provides better stability.
·        Choice of different height lift mechanisms provides a wide range of adjustment.
Standard Features
·        Stool: Dual Lever Adjustment
·        Seat: English Style Saddle
·        Cylinder: Medium
·        Base: Beige Powder Coated Metal
·        Casters: Hard Floor
·        Cushioning: High resiliency foam
·        Upholstery: Medical Grade Vinyl
·        Cushioning: Closed Cell Injection Molded Foam
·        Upholstery: Standard Vinyl
Specifications
·        Weight: 28 lbs
·        Stool Base Diameter: 23″
·         Floor Seat Height: 22.5″ – 27.5″
·        Seat Measurements: Width 16″ x  Depth 13″
Standard Vinyl Color Chart