Crown Seating, Telluride C50ABT Assistant's Stool
People are different. Not a profound observation, but this is what most office seating manufacturers continually overlook. At Crown Seating, they have embraced this idea by designing each of their ergonomically correct office chairs to fit a specific body instead of everybody.
The Telluride C50ABT is a modern assistant's stool recommended for users below 6′ tall.
Custom Colors:
Crown Seating has almost every imaginable color choice available!  When you place your order, a WDA Sales Rep will contact you to finalize the color of your chair by providing color swatches or assisting with color matching existing equipment.  Please note that some fabric choices may require additional charges.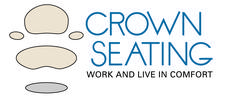 PRODUCT INFO
Features & Specifications
Standard Features
·        Stool: Triple Lever Adjustment
·        Back: Lumbar
·        Seat: Oval
·        Arm: Ratcheting Arm
·        Cylinder: Tall
·        Foot Ring: Adjustable
·        Base: Beige Powder Coated Metal
·        Casters: Hard floor
·        Cushioning: High resiliency foam
·        Upholstery: Medical grade vinyl
Benefits
·        Revolutionary seat pan mechanism allows the backrest to massage users lower back.
·        Ideal for medium to short users.
·        Triple lever adjustment allows user to operate in better health and comfort through maximum adjustability.
·        Unique curve of lumbar backrest supports lower spine for superior back health.
·        ABS shrouds provide easy cleaning surfaces.
·        Oval seat shape prevents "perching" on front edge and facilitates better back support.
·        With the control lever in the "Free-Float" position, the seat and the backrest will follow you as you lean forward and back on the stool.
Specifications
·        Weight:44 lbs
·        Stool Base Diameter: 23″
·        Floor – Seat Height: 24.5″ – 31″
·        Back: Width 15″ x Height 8″
·        Seat Measurements: Width 18.5″ x  Depth 14.5″
Standard Vinyl Color Chart