Crown Seating, Silverton C150D Saddle Operator Stool
The Silverton saddle was designed with every body in mind, not just a specific body type. Softer foam combined with strategic placement of that foam allows a saddle seating experience like never before.
Custom Colors:
Crown Seating has almost every imaginable color choice available! When you place your order, a WDA Sales Rep will contact you to finalize the color of your chair by providing color swatches or assisting with color matching existing equipment. Please note that some fabric choices may require additional charges.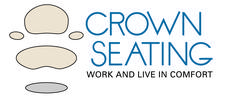 PRODUCT INFO
Features & Specifications
Benefits
·        Full tilt adjustment allows user to sit comfortably while working.
·        Distinct anatomically designed seat conforms to the natural shape of the body.
·        Technologically advanced injection molded foam provides excellent support and comfort.
·        Multi-angle pelvic positioning helps reduce lower back strain.
·        Improved balance point allows you to bend forward and reach further with less strain.
·        Small seat size allows the closest positioning to the patient.
Standard Features
·        Dual lever seatplate adjustment with 15 degrees of tilt.
·        Lightweight design
·        Saddle style seat
·        Cylinder: Tall
·        Base: Beige Powder Coated Metal
·        Casters: Hard floor
·        High resilience injection molded foam
Specifications
·        Weight: 28 lbs
·        Stool Base Diameter: 23″
·         Floor Seat Height: 25″ – 31.5″
·        Seat Measurements: Width 13″ x  Depth 16″
Standard Vinyl Color Chart